Our Values
Our Values reflect a mix of where we are now and the behaviours we want to develop and nurture to take us into the future. We want to amplify our strengths, for example in our care and commitment to a safe environment and in pockets of great collaboration, and focus on what we need to grow: an empowered environment, characterised by curiosity and a focus on the future.
They were developed collaboratively, bringing our Executive Management team together with our employees to create one set of global values which outline what it means to 'Be Devro.' They are the way we do our work and how we behave as we execute our strategy and create competitive advantage.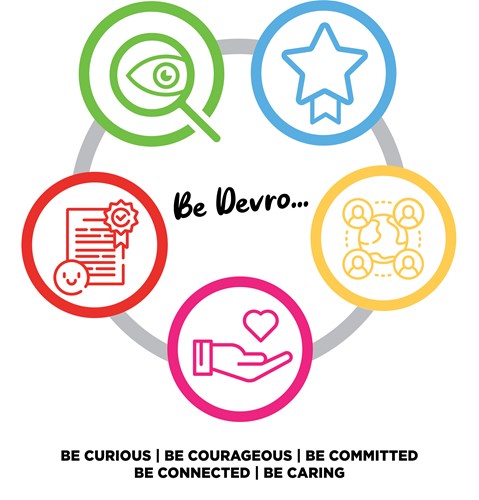 Our Values are
To bring our Values to life across Devro, we engaged our leaders, connecting them with what the values meant for them and encouraging them to experiment with changes through a series of workshops. 90 leaders across the business attended and these leaders then engaged their teams, helping them to make sense of what the Values mean for their areas, roles, and to them personally.
We also set up a network of Purpose Ambassadors to bring Purpose to life in their regions and functions, demonstrating how we live our purpose and values every day. Over 40 people across the globe volunteered and showcased the efforts in their areas.
We are now focused on integrating our Values into how we recruit, manage, develop and reward our people, how we communicate and what we emphasise, so that we create the environment we need to live our Purpose and deliver success.