ENERGY AND GREENHOUSE GAS EMISSIONS
We aim to minimise our impact on climate change by continuing to work towards reducing our energy intensity and carbon emissions. We monitor and maintain our equipment and processes to reduce the impact of fuel consumption and electricity-related CO2 emissions. Any major capital projects have incorporated the best available technologies at the design stage to minimise emissions and energy usage per kilometre of product. Despite significant emissions reductions in the last two years, we slightly missed our five-year target to reduce CO2 per million metres of casing produced by 30% (actual 27%).
The main contributor to CO2 emissions reduction in 2020 was the closure of Bellshill site, with the production relocated to more efficient sites in the Group without a material loss in total output. Our energy consumption data follows the trend in our emissions data as our greenhouse gas emissions are mainly due to the use of energy in our sites and centre on heat and electricity for our manufacturing processes. In 2020, our energy consumption per million metres of production was down 8%, meaning we have exceeded our five year cumulative energy reduction target of 15% to 2020.
MANAGING ENVIRONMENTAL PERFORMANCE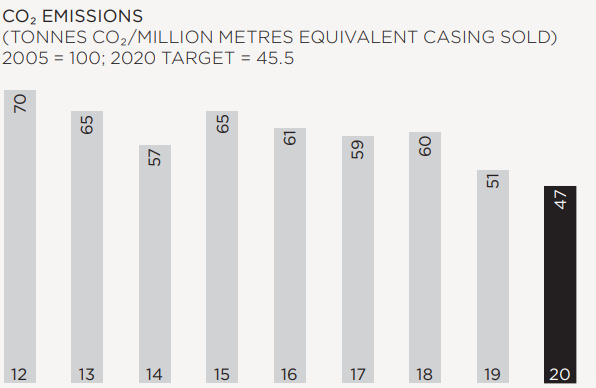 Our main vehicle for compliance and improvement continues to be our environmental management systems, employed at all of our manufacturing sites. As at year end 2020, five of our seven collagen production sites are certified with the ISO 14001 Standard (in Scotland, Czech Republic, Australia & China) and the sites aim for continued conformity with the requirements of ISO 14001:2015.
Our specific environmental concerns differ by region and similarly, our business is subject to a variety of regulatory regimes and cultures. We manage environmental issues through a network of field and regional specialists operating within the business units. However, active global cooperation between our sites ensures that many country-specific solutions we have implemented across our manufacturing sites become adopted across business units where a common solution is practical. Our individual business units measure relevant environmental impacts aligned to the specific country or regional legislation.