CLIMATE
To support our commitment to minimise our impact on climate change we have set a series of targets to address our environmental impact across emissions, water and waste. While we have made good progress over the last decade we recognise as a company that we have significantly further to go and will do so.
To reduce our carbon footprint, we have set a series of emissions targets to guide our journey to Net Zero. We are working towards our initial 2025 target of reducing our Scope 1 and 2 emissions intensity by 25% from a 2020 baseline. By 2030 we are aiming for an absolute reduction in Scope 1 and 2 of 25% against our 2020 baseline, with the target of achieving Net Zero by 2050.
The energy use required for our manufacturing processes is the main contributor to our CO2 emissions. In order to move towards our near-term emissions targets we will focus on improving the efficiency of our processes and procuring renewably sourced electricity.
To accompany our emissions targets, we have outlined a series of goals to progressively increase the proportion of renewable electricity in our energy mix. By 2025 we aim for half our electricity to come from renewable sources, increasing to 75% by 2030 and eventually using 100% renewable electricity by 2050. This is driven largely by renewable electricity availability which may well become available sooner.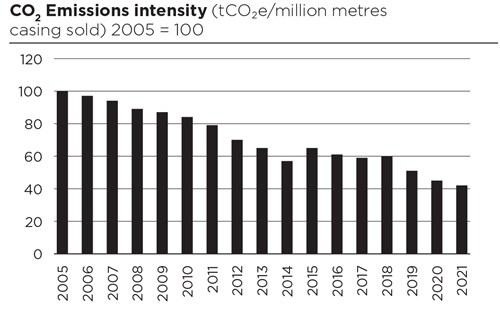 Commitment to Climate Change
We have created a TCFD Report which sets out the Company's climate-related financial disclosures consistent with the recommendations of the Task Force on Climate-related Financial Disclosures ('TCFD') and with the TCFD recommended disclosures, in line with the current UK Listing Rules requirements. Specifically this TCFD Report takes account of the 2017 guidance issued by the TCFD on the implementation of its recommendations (the '2017 TCFD Annex') and the additional guidance released in October 2021 ('2021 TCFD Annex')