Safety is our number one value. Our goal remains to become a Zero Accident Community across Devro, at each site and within each functional group. We ask all employees to have the shared view that we will all THINK SAFE, WORK SAFE and GO HOME SAFE. We want all employees to go home in the same condition in which they arrived and always work to protect their Zero and watch out for the Zeros of their colleagues.
My Zero Circle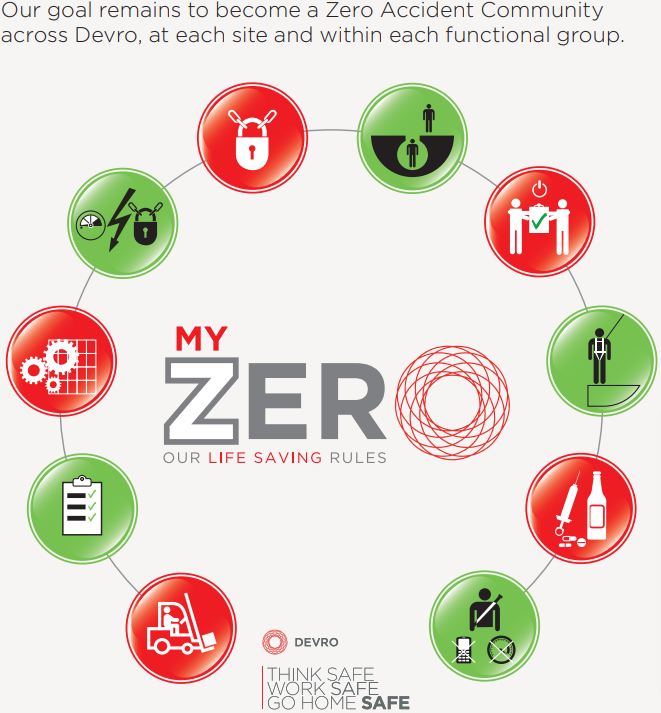 We follow our three pillars to drive our safety efforts:
Firm Foundation focuses on the standards we need to have in place to stay safe, such as confined space entry and Lock Out/ Tag Out of energy sources. We have completed all Priority 1 standards.
Discipline Discipline ensures that we have the necessary policies, procedures, processes, and practices included in Standard Operating Procedures (SOP's) to keep people safe. In 2020, we reviewed c.3,000 SOP's across the Group and completed Risk Assessments on each procedure. Our goal was to ensure that all facets of an SOP (e.g. start up, shutdown, normal operations, abnormal operations, and cleaning) were covered and we ensured our Safety Standards were woven into the procedures.
In the Internalised Safe Behaviours pillar, we continued to focus on creating the transformation in our people via the "Hearts and Minds" program, which helps our people internalise safe behaviours. We rated ourselves as "Calculative" in our first survey and have a first goal to achieve the "Proactive" rating as part of our safety journey. We will measure our progress again during Q4 2021.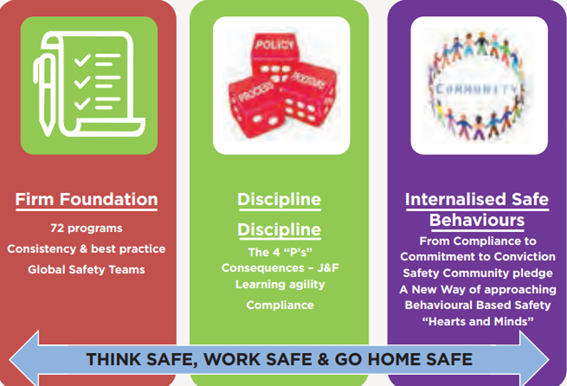 HEALTH & SAFETY MANAGEMENT
Health and safety remains our top priority and is therefore one of the first agenda items in meetings of senior management including the Executive Management Team and Board. The Board's Health and Safety Committee reviews and monitors safety performance overall and in each of the regions. All sites have monthly safety training in place covering annual mandatory training and topics relevant to our drive to create ZERO ACCIDENT COMMUNITIES.